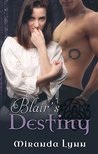 Blair's Destiny
by
Miranda Lynn
My rating:
5 of 5 stars
Audio review
"Great series "
Would you listen to Blair's Destiny again? Why?
Yes I would as I really love the characters and the series
Who was your favorite character and why?
Jamie. I just loved how much she grown into this timeframe she had been dropped into
Have you listened to any of Lesley Parkin's other performances before? How does this one compare?
Yes, It was wonderful as she also narratored book one and I loved hearing the same voices I fell in love with in book one
Was there a moment in the book that particularly moved you?
yes when Jamie and Jack were searching for Blair to help her overcome the darkness
Any additional comments?
This is part of a series so we are left hanging in the end. It wasn't a horrible way to end it but it does leave us wanting more of the story. I love these characters so I can't wait to read/listen to more of them.
Well worth a credit
View all my reviews